ITALTUBES is a trademark registered by the Italcanna company in Lucca to indicate their sector concerning the production of tubes in advanced composite materials. The company was founded in Tuscany in 1966 as specialized manufaturer of fishing rods by Carlo D'Olivo, who followed his uncle's factory where, in the early post-war years, with other 120 employees he worked as tecnical chief.
Today, Italcanna is a worldwide known brand for its excellent products which hold several records in catching big fishes on all seas around the globe. All this was unimaginable back in the mid-60s, when the name Italcanna made its first appearances on the first tubes Carlo D'Olivo personally manufactured.
For many years the production focused on fiber glass models, that we soon started exporting to France, and later even to US and Australia, gaining in just a few years prestigious awards such as the 1971 Quality Award and the 1981 International Gold Hercules Award.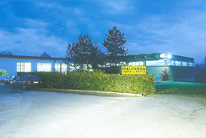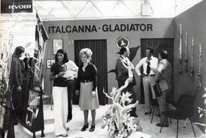 In the 80s we started an extensive research on composite fibers that brought Italcanna to be one of the first European companies to manufacture hollow composite tubes. Using woven carbon fabrics also for other applications, we developed new manufacturing and assembly technologies to obtain ultimate performances from these composite materials. The results we achieved have been extremely gratifying, involving the entire production and expanding it with always innovative, cutting edge products.
These research activities led to the development of the first carbon fiber fishing rods, which immediately won a world title at the 1981 Madeira World Fishing Championships. In addition, the solid fiberglass rods which were becoming outdated, were superseded by the first composite telescopic rods, such as the Telesurf or Marenostrum (trademark patented on 11/11/1986).
1983 also saw the birth of the first composite flagwavers' poles, still today a pride of the Italian tradition, following a request by a Lombard club,
Despite these successes, the company did not rest on its laurels but continued to introduce innovations, such as the TMH patent (22/10/1987) and the production of a range of specially-designed, high-performance professional rods. It was thank to this limited production that we managed to attain more technical information we used in our serial production of carbon fiber tubes, which once again gave us outstanding results. Most recently, Italcanna patented CarboTitanium (13/12/2002), a material designed to give tubes extra strength and lightness. It is due to our quality and reliability that Italcanna carbon composite tubes are now employed by several different companies in heavy-duty applications.
Last but not least, let's not forget Italcanna's ongoing commitment to protect the environment by using eco-friendly products and health-safe paints that respect REACH regulation.