Relying on a highly-experienced skilled staff, Italtubes manufactures each and every product to the highest quality standards and our machines are continuously adjusted and tuned-up to achieve the best processing results.
Our carbon fiber tubes are manufactured with the Wrapping technique, basically by wrapping a pre-preg carbon fiber on a mold.
This technique's advantages compared to others are many:
- we can make tubes with different thicknesses, from 0.1 to more than a few mm, the thickness can also vary more than once into the same tube
- tubes can be cylindrical or conical, conicity can vary multiple times into the same tube
- we can control the exact amount of resin into the tube
- we can place fibers at a perfect 0° or 90° angle or any other inclination you want
- we can place the fibers after a precise schemes, it's then easy to change every single layer
- we can alternate/change the carbon fiber type into the tube to obtain different results
- carbon fiber tubes made with this tehcnology can stand very high temperatures and pressures
- we can develop specifical designs to make tubes able to resist or transmit strong twists along the axis
- every tube we make can be designed/adapted to a specific purpose
- we don't need big quantites
- the tube has a nice, unique, outer look
Almost all these features are possible to obtain only with the Wrapping technique. Each carbon fiber tube we make is the result of a notable design and severe pratical testing process that always requires several months of work. This is why we face every project with the will to realize something innovative and long-lasting in time. We are not interested in putting out ephemeral products constantly subjected to variations.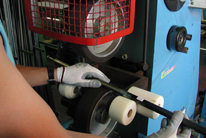 All the carbon tubes we produce are scrupulously checked, and we also periodically choose some random ones to undergo quality-check tests, a further guarantee of our reliability and professionalism.
Not by chance our flagwavers' poles have already won several Italian Championship titles, while in sports Italcanna's rods currently hold 7 World Championships, 13 European ones and 43 Italian titles in addition to just as many records.